Assessor's Office
Town Assessor:
Hal Henty (hhenty@townofschroeppel.com)
Clerk to the Assessor:
Vickey Morrison
Phone 315-695-7065
Fax 315-695-3231
Clerk to the Accessor Office Hours:
Monday 7:00 A.M. to 3:00 P.M.
Tuesday 7:00 A.M. to 1:00 P.M.
Wednesday 7:00 A.M. to 1:00 P.M.
Thursday 7:00 A.M. to 1:00 P.M.

Accessor's Office Hours:
Tuesday and Thursday: 9:00 A.M. to 1: 00 P.M.


NOTE: The Assessor will be at training from October 2 to 6, 2023. He will check messages when possible.



Appointments can be made with the clerk for other times for your convenience. A lockbox is located at the public entrance of the building.
Address:
69 County Route 57A
Phoenix, NY 13135
Description:
The Assessor must meet NYS standards, deadlines and minimum qualification standards as set forth in the 20 NYCRR 8188, & 8188-2.2. After certification, the assessor must participate in a continuing education program and the completion of an approved Ethics component, which is required one year prior to or one year after reappointment to office. The assessor's office is responsible for the data collection of all properties within the Town of Schroeppel. All sales data is analyzed and reviewed to manage the equalization rate of the town. The Assessor's office doesn't levy taxes or set budgets this is done by the taxing jurisdictions. All exemptions are processed and reviewed each year. The Assessor is in the field at all times during the year collecting data and photographing parcels, Light Gray Automobile Lic PETPHOTO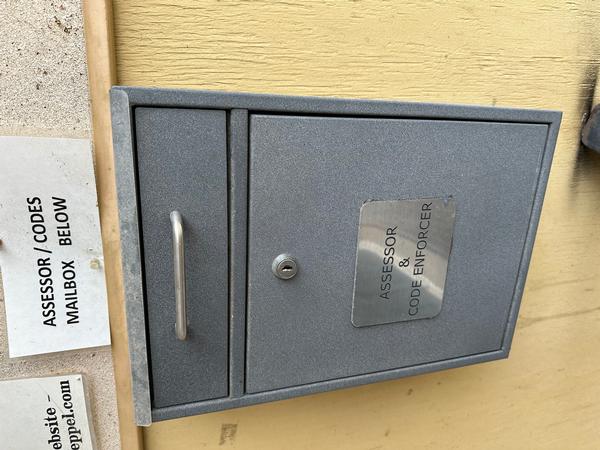 We strictly adhere to the
March 1st

exemption deadline as State Legislated for ALL applications!

NOTE: Senior Citizens Exemption forms and instructions are included below.
GRIEVANCE INFORMATION
GRIEVANCE DAY 2024 is MAY 28th from 4:00pm to 8:00pm
Please feel free to call to discuss any questions you may have and/or schedule an appointment for your convenience. The earlier you contact the assessor, the easier it is to make any modifications! Prior to the tentative role of May 1st, you may want to contact the assessor in person or by phone to discuss your upcoming year's assessment. The assessment of your property should be equal to a fair market value. The assessment in the Town of Schroeppel is at a partial value, that being 55%. The full market value can be calculated by dividing your assessed value by 0.55, Example: assessed value of $110,000 divided by 0.55 equals a full market value of $200,000. The market value of your property is based on local sales of similar properties in the last few years. Examples of similar properties are: square footage, location, building style, lot size, etc. The assessor is available at any time during the year to review and discuss your assessment.
It is the Home Owners Responsibilty to check the Tentative AND Final Rolls for any exemptions, assessments, correct addresses, etc.

May 1st is when the Tentative Roll is filed and ready for inspection by property owners.
PLEASE CHECK THE VIDEO LINK BELOW ON ASSESSMENTS
Grievance -- If you decide to file a Grievance, you must follow the correct procedures, which this office will gladly help you with!
Prior to Grievance Day, the Assessor will be in the office for in-person meetings and also extra hours other than normal hours.
Extra Hours for Grievance
Thursday, May 2, 2024 4:00pm - 8:00pm
Saturday, May 11, 2024 9:00am - 1:00pm
Tuesday, May 14, 2024 8:00am - 1:00pm
Please see the special grievance documents below!!!

Links
Oswego County Real Property
Link to General Information / STAR Program
Contesting Your Property Assessment Video
STAR Information Link Phone (518) 457-2036
Tax Assessment Rolls
Image Mate Online